What if you chose recycled business gifts this year?
/ 11.11.2021

Environmental concern is increasingly prevalent in our consciousness. Why not choose recycled business gifts? This will make it clear to your customers and business partners that you care also about the environment. Do you like the idea? We love it, so we added business gifts, which are made from recycled materials, but at the same time innovative and very useful, to our offer.
We are convinced you are aware that every selected and given business gift has a very important role that must be used for the benefit of your company. Choose business gifts carefully so that the recipients will be enthusiastic about your choice and will keep you in mind again and again when they see or use your gift. This year, to choose gifts that will impress all the recipients, you need to know the trends. Now, environmentally friendly gifts that are, of course, unique are the trend. You will surely be thrilled if you gift your business partners with gifts that carry within them the soul of your brand and the awareness that you respect the environment. We will be happy to print your logo or desired inscription on selected gifts from recycled materials.
Why choose recycled products for a business gift?
We need to be aware that the consumption of resources used to make various materials and products is increasing year by year. As a result, more waste is generated each year, which ends up in landfills or incinerators. We also influence climate change through such actions. In the coming years, we will have to limit the consumption of natural resources and one of the alternatives is certainly to recycle existing products that will become waste into new products. Our company is very well aware of all this, which is precisely why we have also added business gifts made from recycled materials to our offer. Many people think that recycled products are of poorer quality, but this is not the case. Business gifts made from recycled plastic are of high quality, innovative, trendy, and send a clear message that you are environmentally conscious.
Recycled materials used to make business gifts
As usual, different recycled materials are used for different products, such as recycled plastic, cotton, paper, cardboard, and many other materials. Among recycled plastics, PET (polyethylene terephthalate) plastic is the most commonly used, which is currently also the most widely used plastic. As a curiosity, let us reveal that recycling PET plastic saves a lot of space in landfills, as 1 ton of PET bottles takes up as much as 5.7 cubic meters of space. Recycling not only saves space but also preserves water resources and reduces the carbon footprint created by plastics. You will recognize the recycled version of this plastic under the rPET label. T-shirts, sports shoes, backpacks, new PET packaging, reusable shopping bags, etc. are already made from this type of recycled plastic. It is also used to make recycled business gifts.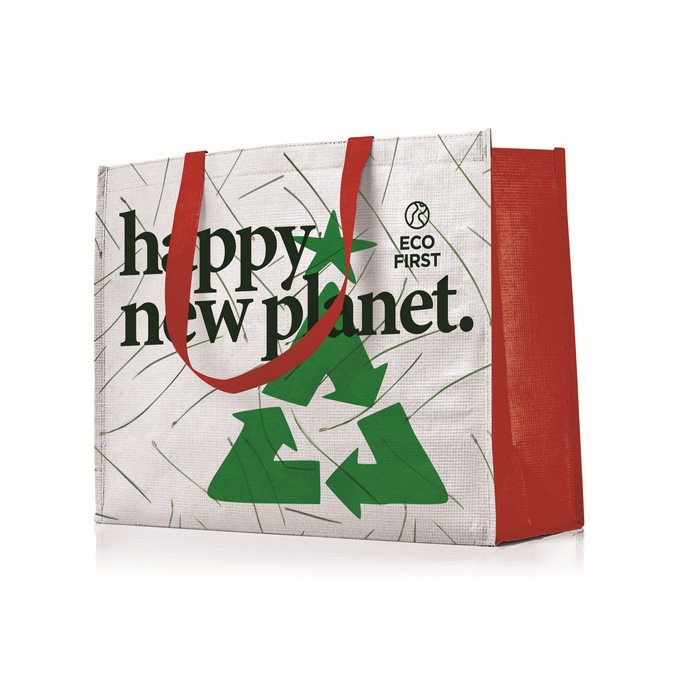 Our offer of recycled products
On our website, you can take your pick among innovative, useful, fun, and environmentally friendly business gifts, that are varied and affordable. Among those, you will also find a variety of recycled products. Choose a recycled cotton bag that your customer or business partner can use over and over again. This type of gift is especially suitable for all companies that sell various products, such as fruits and vegetables, books, bread, baked goods, as this will encourage their recipients to bring their bag the next time they visit you, and they can use it many times. We are happy to print the company logo and an environmentally friendly thought on the selected recycled bag, which will motivate its users even more to environmentally friendly actions. If your customers and business partners are companies that provide various office services, then a folding, recycled table stand that contains plain and self-adhesive sheets and a pen holder are the right choices for you. This type of stand is a very useful accessory in the office or at home. Folding the stand makes it very convenient to carry in a bag next to the computer so that you always have it on hand. The EVERNOTE notebook made of recycled material is a classic choice for a business gift, that each customer or business partner will be happy to receive - we all need a small A6 notebook to jot down ideas and commitments.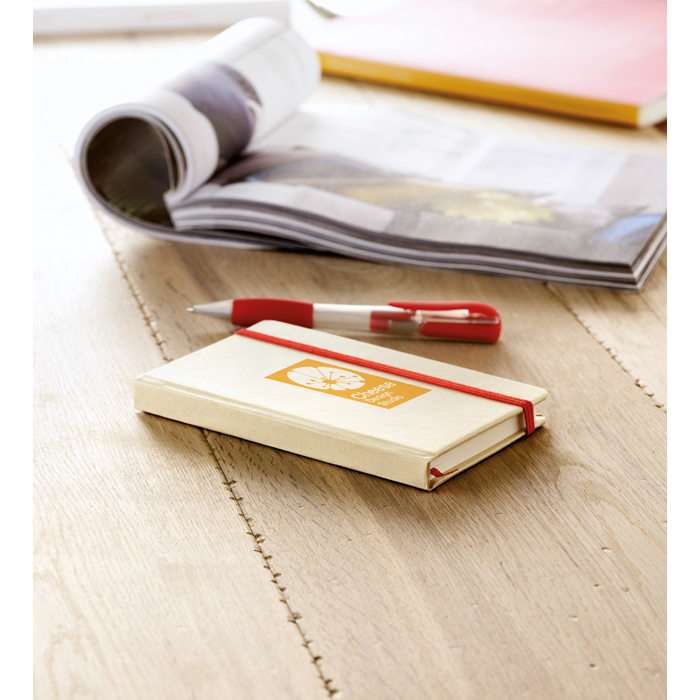 So why choose eco-friendly gifts?
By choosing recycled business gifts, you will show a sustainable attitude and encourage the recipients to think that they too can contribute to a more beautiful and environmentally friendly tomorrow with their decisions and actions. In addition to recycled products, you can also choose other eco business gifts in our offer that impress even the most demanding people. Maybe consider gifting them with an eco backpack, pen or impress them with innovative eco-technology. And another thing you might want to keep in mind, namely that we can also personalize any recycled or eco-business gift, as we offer you the option of printing or engraving a logo and inscription on the selected gift. This way, the business gift will be even more personal and will always remind your customers and business partners of your values ​​and excellent business relationships.
Contact us and we will help you choose the most suitable environmentally-friendly gift for your company.